Municipalities come in all shapes and sizes and their boundaries are set for all kinds of reasons. These reasons do not include emergency response effectiveness. For one, populations don't grow in concentric rings from the middle of a district. Properties are developed haphazardly and call locations are lumpy. Sometimes developments grow on the edge of the boundary to take advantage of a nearby metropolitan center or localized services
In short, municipal boundaries are not ideal service area boundaries.
This fact is well-recognized and most emergency services have developed aid agreements to compensate. In general, the agreements take two forms: mutual aid and automatic aid.
Mutual aid is simply a "we'll help if you call us" agreement. It is typically used to deal with large events that a single service can't handle. Mutual aid doesn't increase efficiency, but it does increase surge capacity.
Automatic aid is more tightly integrated. The closest vehicle is sent to the incident, regardless of the service boundaries. Generally, this is done through dispatch.
We find it useful to look at four different levels of cooperation – all of which ignore boundaries in different aspects of the planning and response process:
Boundaryless dispatch,
Boundaryless deployment,
Boundaryless redeployment, and
Boundaryless station planning
For example, the map image below shows areas along the boundary of Edmonton and Strathcona county. The outlined area is probably several minutes closer to Strathcona County Fire Station 1 than either Edmonton station.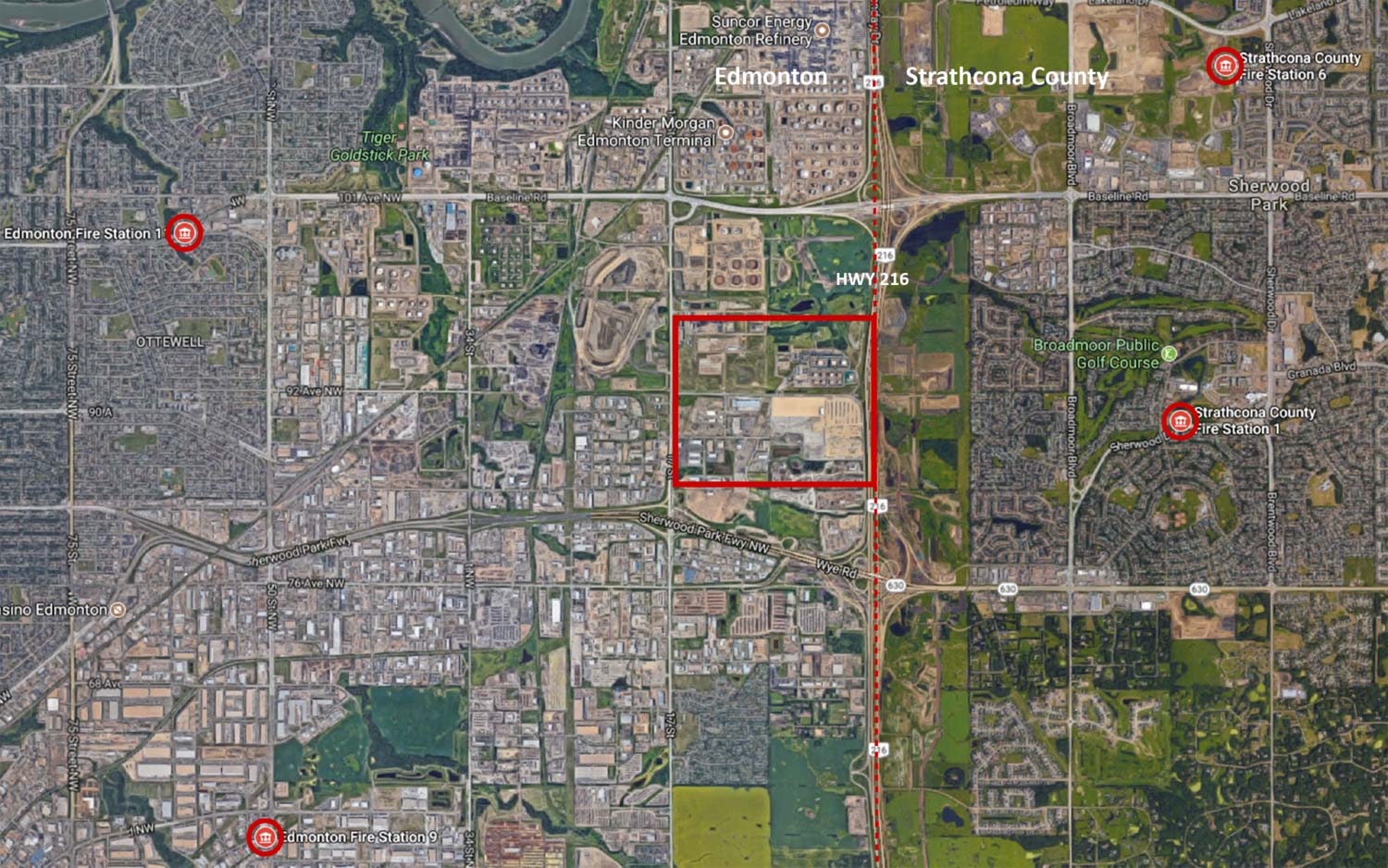 That area, and several others along the boundary (Highway 216), could be candidates for an automatic aid agreement. There would be a costless performance gain from boundaryless dispatch.
Tighter integrations are possible though. There are some situations where it makes sense to integrate deployment, not just dispatch. For example, the Town of Devon (at the bottom right of the map below) is on the very edge of Leduc County (the river is the boundary between Leduc and Parkland). Devon is closer to any calls in the bottom half of the map, but if it followed municipal boundaries, it would never respond to these.