Station reviews are a common feature of any large service's strategic planning. Locations may need to be changed to accommodate urban sprawl, densification, or changes in underlying demand or risk. Whether it is growth or aging facilities that initiates a review, ensuring the right number of stations are in the right locations will have a significant impact on response performance. We help bring certainty to this process.
Methodology
We start by developing three analyses upon which our station model resides:
Projected Road Network: Working with city planners, we identify likely changes to the road network such as bridges, overpasses, ring roads, bicycle lanes, etc. We turn this projected network into a series of snapshots at regular intervals for the next 20 or 30 years.

Spatial Call Forecast: Again with city planners, we develop a population forecast by location and overlay this onto the road network projections. We then convert this population forecast into a call volume forecast based on our understanding of the key drivers of call demand (demographics, zoning, major roadways, etc.)

Drive Time Analysis: We use your drive times, on your roads, responding to your calls to populate our drive-time model. The model then estimates point-to-point drive times for every possible station-call pair. This method is exceptionally accurate and based on years of research and application.
Results
Our station review provides more than a recommendation. For each client, we create an interactive, map-based tool whereby the user can test different station configurations and see the resulting response performance instantly.
Below is a scenario where a city plans to add 1 new station in the near future. We can see the existing performance in the first image and the expected performance increases by adding one station in the second.
Existing station configuration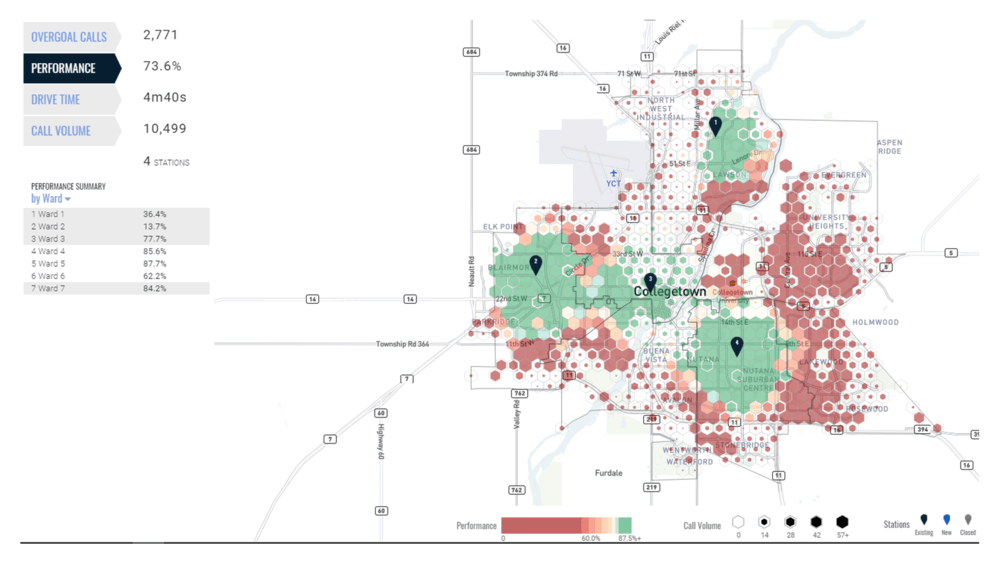 One addtional station added to the east side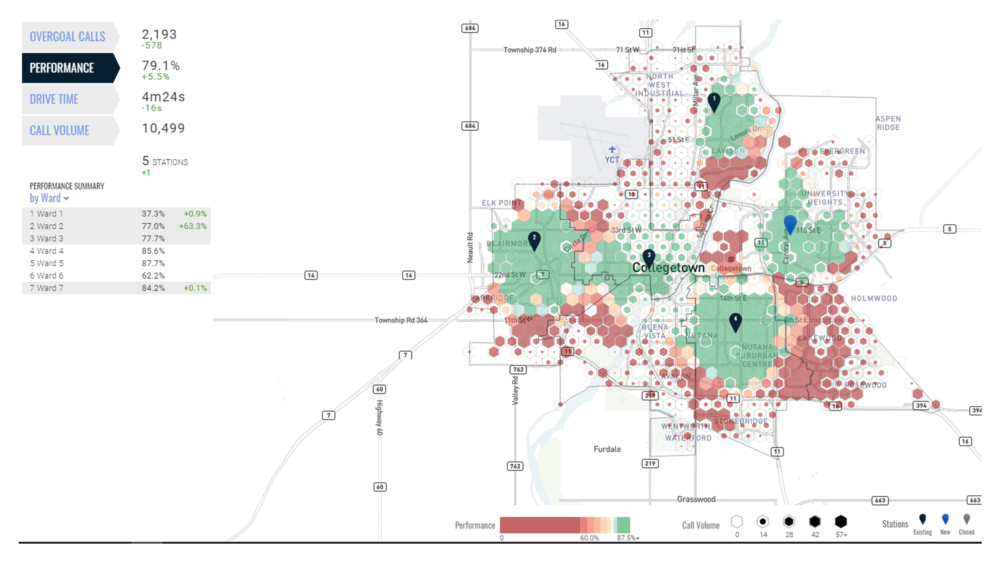 The tool is exceptionally accurate–often predicting performance within 1% several years into the future.  It answers questions like:
What should our station configuration look like in ten years?
Which station locations are poorly located?
How many station should we add in order to reach our response targets?
What single station location change will have the most benefit?
Cost and Timelines
We generally conduct Station Reviews as part of a larger process that includes a Performance Diagnostic Review. This both validates our station modeling results and ensures that it is worthwhile to pursue the full modeling exercise.  A diagnostic and station modeling engagement will typically take between 10 to 15 weeks to complete and cost between $50,000 and $100,000.
CALL TO ACTION BOX